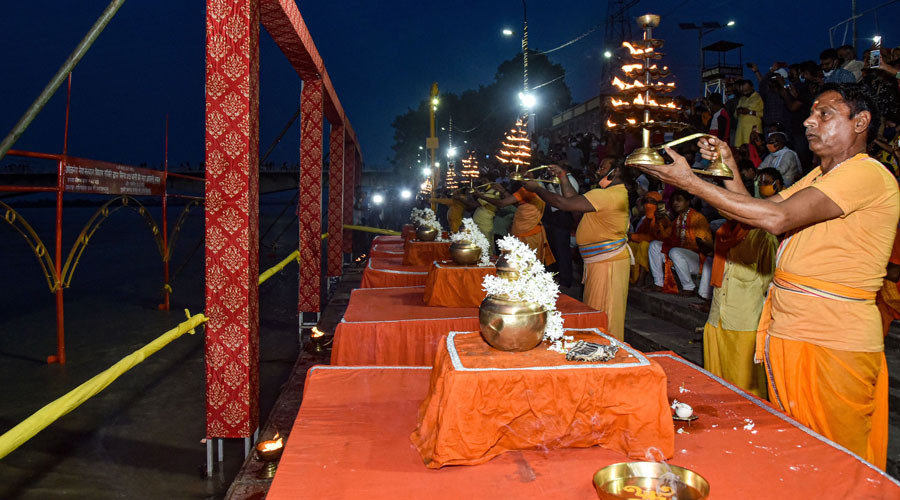 A mahant from Ayodhya has claimed to have written to the Union home ministry threatening to petition the Supreme Court unless more sadhus from the town are made members of the trust set up to build the Ram temple.
Dharam Das, mahant of the Nirvani Ani Akhara, has alleged embezzlement of the Shri Ram Janmabhoomi Teerth Kshetra Trust's funds by some of its 15 members and claimed that local monks were kept out of the body to facilitate such corruption.
"I have sent the notice to the home ministry, which had formed the trust (in late February) on the Supreme Court's directions," Das told reporters in Ayodhya on Friday.
"They are keeping us away because they want to embezzle the funds. I shall approach the Supreme Court if the home ministry doesn't give a satisfactory reply within two months."
Only one sadhu from Ayodhya — VHP leader and Maniram Chhaoni mahant Nrityagopal Das, who headed the now-defunct Ramjanmabhoomi Nyas — is part of the trust. The other 14 members include RSS and VHP leaders, bureaucrats and two outstation sadhus.
"Many senior Union ministers had said that Ayodhya's sadhus would find a place in the trust, but after eight months we are still waiting," Dharam Das, who was one of the Hindu litigants in the Ayodhya title suit, said.
It could not be confirmed from the Union home ministry whether it had received Das's letter.
A trust member said on the condition of anonymity: "We haven't seen the notice and cannot comment on it officially. But Dharam Das must know that the trust is managed and monitored by the Centre, with auditors reviewing its spending every day."
Das alleged that Vaishnavs had been "mischievously" kept away from the trust.
"They have also ignored the descendants of the saint who had placed the idol of infant Ram on the disputed premise," he said.
Das claims his late predecessor Baba Abhiram Das alias Abhinandan Mishra, mahant of the Hanumangarhi temple, had surreptitiously installed the idol on the night of December 22, 1949, setting off far-reaching events.
However, a Hindu Mahasabha leader and monk, Ramchandra Paramahansa, had at the time publicly claimed responsibility for the act. It's his claim that received wider publicity during the BJP-VHP temple movement although the FIR at Ayodhya police station names Abhiram.
Abhiram had never publicly claimed to have installed the statue. He had told an Ayodhya court that the temple didn't belong to any sect, math, akhara, mahant or any other organisation or individual and that the plot should be handed over to Hindus collectively.
Continuing with the theme of embezzlement, Das said: "The title suit was between Ram Lalla Virajman and the Sunni Central Waqf Board, besides other parties. The court verdict was in favour of Ram Lalla. So why aren't all the trusts' assets in the name of Ram Lalla?"