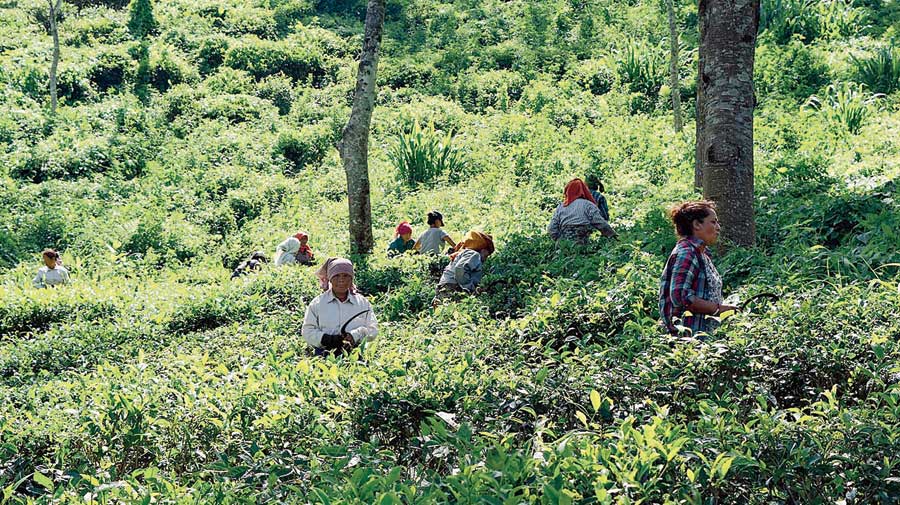 A notification from Assam's labour welfare department on the interim hike of Rs 50 in the daily wage of tea workers in the BJP-ruled state prompted the saffron camp in north Bengal to point out that tea wages in the Mamata Banerjee-ruled state were lower now in comparison.
Both Assam and Bengal are set to face Assembly polls this summer, making tea wages a political issue in both.
On Tuesday, Assam's principal secretary of the labour welfare department issued a notification, saying that with the hike, the daily cash wage for the state's tea workers (other than those serving in tea gardens of the Barak valley) increased to Rs 217 a day with effect from February 22. For tea workers of Barak valley, it is Rs 195 a day.
In January this year, the Bengal government revised the daily wage of tea workers on an interim basis and it stands at Rs 202 a day now.
Manoj Tigga, the BJP MLA of Madarihat in Alipurduar district, said that many state ministers and Trinamul leaders had in January "scoffed at the Assam government" for lower wages there.
"Now that the Assam government has made the revision, the wage rate is higher than Bengal. We will raise this issue as we go out to campaign before the Assembly elections," said Tigga.
Trinamul leaders dubbed the hike announced by the Sarbananda Sonowal government as a ploy to woo Assam residents ahead of the polls and underscored a slew of development schemes  introduced by the Bengal government for its tea population.
Mannalal Jain, a senior Trinamul leader in the Dooars and the vice-president of Cha Bagan Trinamul Mazdoor Union, said such tactics by the BJP won't work ahead of the polls.
"Unlike Assam, the state government here has taken up many initiatives for tea workers, the most important being free housing. Workers get food grains from the state….Also, wage rate here is uniform, unlike Assam with a different rate for Barak valley," said Jain, adding that the Trinamul government reopened many closed tea gardens and improved infrastructure in the tea belt.
But Trinamul leaders are also aware that most tea garden residents had sided with the saffron camp in the 2019 Lok Sabha polls, which helped the BJP win Jalpaiguri, Alipurduar and Darjeeling.
Poll results of some 15 Assembly segments in Bengal depend on the tea population.